Welcome to Laxlyckan & River Mörrum!
Dear guest,
At the moment we are rebuilding our online booking, but the dates and prices for 2016 are updated! Untill all is set, you are welcome with your inquiries via e-mail or telephone!

Laxlyckan ("The Salmon Joy") is your guide and instructor at Sweden's most famous salmon and seatrout water: River Mörrum. We are happy to guide you or your whole company in a beautiful south swedish nature, both on private and public parts of the river. Since 2004 we have had the pleasure to fish together with spin and fly fishermen from all over the world!

The full fishing experience – book our packages online
You will find our most appreciated tours here on the website, with a clear focus on River Mörrum. The packages are mainly all inclusive and most of them are bookable online via our website. If you still miss something or do not find the kind of arrangement you are looking for – please email us or give us a call. Laxlyckan's travel arrangements are lodged under the Act of Travel Guarantees.

Welcome to south Sweden and to share fishing joy with us at River Mörrum!

The Salmon blog - news and catches

The booking agent Nordic Travel makes our online booking safe for our guests. This means that there are travel guarantees set for all our packages and courses. You pay when you book here on our website, fast and easy. If you have any doubts or questions regarding the terms and conditions for our services please e-mail or give us a call!
mattias@laxlyckan.se
+46(0)70-63 22 545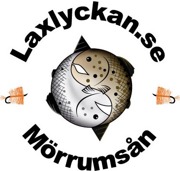 Laxlyckan - Mörrumsån
Guide & Instruktör.
Laxlyckan innehar F-skatt och resegarantier.
Fundersam? Tveka inte utan hör av dig till: mattias@laxlyckan.se eller ring 070-63 22 545
Mattias Holmquist, Vettekullav 131, 374 30 Karlshamn.