Guided tour and a hotel night

From the season 2016 we offer a guided tour together with accommodation at the Hotel Walhalla or at the cottages at Hallandsboda B&B. You can choose to have your night spent before or after the fishing. We guide you at a part of the river that is hot for the moment and serve lunch when suitable during the day.

Bring your family or fishing friend if you like, we´ll pick you up at the railway station in Mörrum or at the Ronneby airport. If you couldn´t bring your equipment, it is included in the price.

Included in the package: One day fishing licence, one day guiding, lunch and a hotel night with breakfast. If you would like an extra day fishinglicence or another night at the hotel, you can book it when you are here!

Price: EUR 400,00/person
Following person(s): EUR 220,00/person
Guided trips on River Mörrum

To fish with a guide means shorter ways to the river hotspots and the fish´s takingplaces. It means of course also that you start your fishing with the right equipment for the day´s specific conditions. A shared fishingday in good and safe company is often twice the experience!
Casting instructions and/or guiding? Two hours or two days? With or without all meals and a nice place to stay? We make a suggestion based on our experience and your wishes!
Price: A whole day tour with licence and lunch included, EUR 350,00 Following person, EUR 180,00
Since 2004 we have guided salmon fishermen through the beautiful streams of River Mörrum. Between Elleholm in the south and Fridafors in there are many amazing and scenic stretches or beats: Pool 1-32, Vittskövle, Ekeberg, Gungvala, Knaggelid, Härnäs och Ebbemåla-Åmma. Single private persons, busines companies, fly- and spinfishermen, ladies and gentlemen from all over the world:
Welcome to discover River Mörrum with us!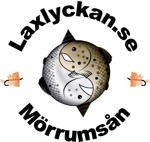 Laxlyckan.se
Guide & Instruktör.
Laxlyckan.se innehar F-skatt och resegarantier. Mattias Holmquist, Vettekullavägen 131, Karlshamn
mattias@laxlyckan.se
+46(0)70-63 22 545